The Wag Box 12 Month Gift
Personalized Gifts for Dogs with Personality.
The Wag Box makes the perfect gift for any dog (and their human).  Each gift box includes SnapWag's Super Premium Grain-Free Dry Dog Food, artisan treats, and amazing toys that we guarantee their dog will love.  We handpick each item that goes into your gift to make sure it is unique and leaves a lasting impression on your lucky recipient.
A Uniquely Premium Gift
Whether it's SnapWag's Grain-Free U.S. manufactured food, our artisan treats, or fun-loving toys, every item in your gift is made with the highest quality ingredients and materials.  Your Wag Box Gift also comes with SnapWags' premium bowl and scooper.  SnapWag does the research so you don't have to.  

Happy Pup = Happy Life!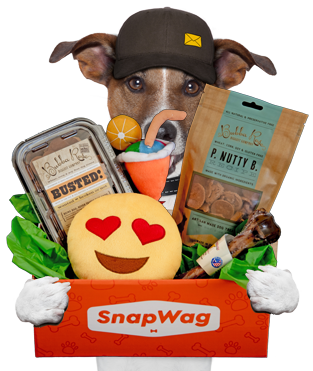 Your dog should be spoiled, not their food.
SnapWag prides itself on only using safely-sourced, super premium ingredients in our food.  Unlike many other dog foods, we handcraft each small batch with extra due-diligence.  Your pup depends on your to make their nutritional decisions, so stop using low-quality, cheaply made food and feed them SnapWag.
Grain-Free
Meets All-Life Stage Requirements
Premium, All-Natural Meat Proteins
No Corn, Wheat, or Soy
Slow Cooked and Handcrafted in Small Batches (<4000 lb runs)
No Artificial Flavors or Colors
Added Omega-3 and Omega-6 Fatty Acids
Added Glucosamine Hydrochloride
Added Chondroitin Sulfate
Manufactured in Ohio
Arrives in convenient 7.5 lb resealable bags to help food stay fresh.
Our Commitment to Quality
SnapWag only includes high-quality treats from select manufacturers to ensure that your pup is not only happy, but healthy as well.  We are a proud supplier of Bubba Rose dog treats.  Each treat is baked in New Jersey and is corn, wheat, soy, and gluten-free (just like our food!).  Bubba Rose only uses meat that is locally sourced, free-range, grass-fed, and hormone and antibiotic free. In addition, their treats are made with local, cage-free eggs.